january 5, 2007
But today I am still finishing up some odds and ends on the network. Tomorrow morning I will try to concentrate on listing goals & making plans.
I do want to say this to those of you who are writing to me presently.
I am thinking of you as the freshest breeze slowly moving into my life, fresh, cool, refreshing and so welcome. Your words are the lyrics of your own individual songs. Your melodies are unique to you. I am so blessed that you trust me enough to share them with me. I am floating, humming along to your music, grateful, serene and tranquil, breathing in thru the nose and out thru the mouth, slowly and completely.
Your energy is growing more positive and more strong with each correspondence. I pray for you during my day and into my nights when I wake up, restless legs syndrome does that to me. I wake up, look around the room and then make a choice, to lay back down and think warm, positive and happy thoughts to all of you, my friends.
Please keep coming back to learn more. It's like the fuel to your personal growth journey. I am so blessed to have known you in some way. You all touch my life for a better journey.
kathleen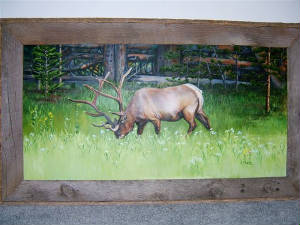 i'd like to share this picture with you all. my sister painted it. she is having an art show this weekend in Ft. Pierce, Florida. this picture has stolen my heart. I can see, hear, feel, taste and smell the day, the scene, the beauty and i wish her the best of luck for her show this weekend!
oh, by the way, my sister lives in a tiny town in Wyoming, about 45 miles south of Jackson Hole. She onced owned the gallery she is showing at this weekend in Ft. Pierce, where she is a well known celebrity!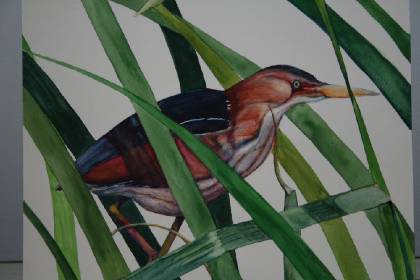 She's Back! Amy Adams returns for a show
Contributed by: Leslie Lafferandre on 12/26/2006
7 years ago, Amy Adams (now Amy Adams Cooper) sold her gallery in Fort Pierce to Laff & Leslie Lafferandre, married & moved on. She now resides in Jackson Hole, Wyoming. Amy may be gone from the area but she is certainly not forgotten. Many remember Amy & her talented artwork.
Amy & the Lafferandre's have kept in touch & 3 years ago they started working to get Amy to come east & do an exhibit of her work at the gallery. The Lafferandre's have named the exhibit "Full Circle" for 2 reasons.
The first it's the start on their 7th year as the Lafferandre Gallery in historic downtown Fort Pierce & bringing Amy back seemed like a great way to celebrate the milestone. This exhibit also introduces a new generation of artist - Amy's son, Samuel Adams, will also be exhibiting some of his work in the show, bringing the family full circle.
The opening reception for the exhibit is Saturday, January 6, from 3 PM to 6 PM. Everyone is invited to attend. They'll also be at the Lafferandre Gallery for Second Wednesday Walkabout from 5 to 8 on Wednesday January 10th, so everyone will have 2 opportunities to come meet & renew friendships with Amy & Samuel & see their exciting work.
The show will run for the rest of the month. The Lafferandre Gallery, located at 205 N. Second Street in historic downtown Ft. Pierce, is open from 10-5 Monday thru Friday & Saturday 10 to 3. For more information call 772 489-4255.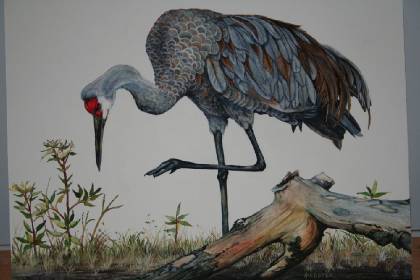 my affirmation for the day....
i do have hope that i can make a list of achievable goals & then make a plan to achieve each one! i believe i can do it!
I do need to add something here about how I feel about my sister, her artwork and her show. It's obviously very much on my mind. I only have one sister. Amy.
Almost our entire childhood we were forced to share a room when we were living at home with my parents. I am 5 years older than she is. She is the baby of the family, I the oldest and there's a brother in the middle. I'm not sure if he's related to me or not. Well, I guess I could say the same for my sister. We've never been close.
When I was developing my personal inventory I wrote about when she was a baby. She was always in her crib crying. I have no memories of her crawling on the floor, sitting in a high chair, bouncing in a johnny jump up, only can I see her tears streaming down her face as she holds on to the sides of the crib, crying, moaning, desperately calling for my mother to get her out. There is one other picture I see in my memories of her as a baby.
I see her in my mother's arms, resting on one hip, grasping on like a little monkey with her feet, as my mother stands at the front door of our house in Baldwinsville, New York. I think I was in kindergarten, near the end of the school year. I was running away from home and my mother was waving good bye to me. My younger brother was standing by her side, my sister in her arms, and she waved as I walked on the shoulder of the busy road, no sidewalk to walk on, pushing my doll carriage that held a clean outfit and a couple peanut butter and jelly sandwiches, and my doll.
I don't remember why I was running away, but I do think it was the first time I tried it.
the other thing i remember about her was when she was still in elementary school and i was in high school. she told me, "i am never going to do things wrong like you do... i'm going to learn from all your dumb mistakes!"
the usual hoo haa from siblings.... do you know i have virtually no other memories of my sister until she graduated from high school and came to live with me and my ex-husband in ft. pierce, florida?
amazing....huh? the same with my brother. i have almost no memories of him as a child. i remember my mother chasing him around the house when he was around 11 or so with a baby diaper telling him that if he didn't stop wetting the bed, she was going to put a baby diaper on him.
so what does that mean? no memories of my siblings growing up. i find it strange, but i do think that i spent most of my time entertaining myself and not playing with either of them.
but after my sister moved in with me, she was 18, i felt very good with her there. i wanted to be a good sister and take care of her. i can remember playing scrabble with her one night and i was winning and she told me that if i put a word in her space that she would hit me, i did, and she slapped my leg as hard as she could. that was the end of the game.
she didn't stay long because my ex-husband and i introduced her to her first husband. she moved out to live with him and that's all she wrote. I made her bridesmaid dresses for her. maybe she never liked them but didn't have the nerve to tell me. she was never close with me again, although i held her hand thru her first labor when her husband chose to go home. i never left her side all night.
she just never felt close to me i guess... we could never get it together... but she wrote this e-mail to me when i was going thru some surgeries on my leg and i've saved it....
Dear Kath,
I think about you all the time, and you have been in my prayers a long time. I know I don't show it , but I love you and you will always be my big sister! I often think about the fun we have had. Even just singing in the car! I always think about all you have been thru, and how stoic and strong you are. You carry on, always looking at the bright side. I know you can make it thru this, as you have made it thru so many other things.
Mom keeps me informed, and I wish I had made more time for talking with you myself. I will make efforts to change, I need to have you in our lives, and have many more good memories. Keep your chin up and know we always love you, and that you will make it thru this. Please take better care of yourself, eat right, try to stop smoking and your body will feel better! I know it is easier said than done, but you really need to give yourself a boost to heal . I will talk with you soon . Say hi to the kids & Fred. Love Amy

that email meant so much to me.
kathleen